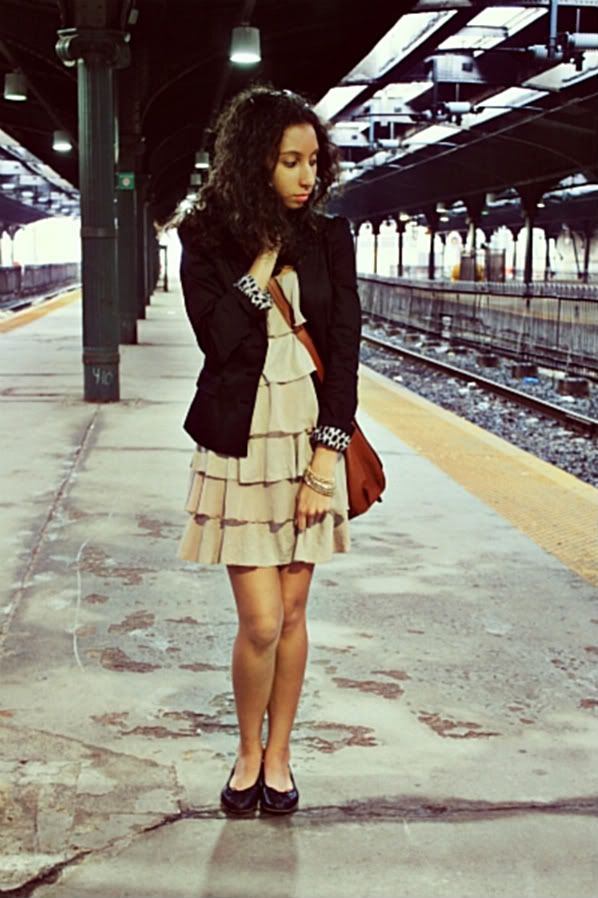 I'm so sad the weekend is over! This weekend was so relaxed, very much needed, and well spent despite minor mishaps (read: the weather). On Saturday,
one of my roommates
came over to my house and we originally decided to go to Hoboken and walk around. However, mother nature had other plans. So we decided to go to the mall instead. Haha mother nature! Couldn't outsmart us! :) Before we left Hoboken to escape the downpour though, she and I decided to snap a few pictures in the beautiful train terminal where it's like Hoboken's own mini Penn Station. Interestingly enough, right after we took these pictures, we were approached by policemen (apparently we weren't supposed to take pictures there,
oops
). The conversation was ridiculously awkward as he asked "So what were you guys taking pictures of?" to which I responded "Um .... of me" and then I had to explain that I blog and I take pictures of myself for the blog. It was really weird, haha, but that weird encounter was worth it considering how beautiful the terminal is.
Sunglasses - NYC Street Vendor, Earrings - Local store, Blazer, Bag, and Shoes - H&M, Dress, Bracelets and Black ring - Forever21, Other ring - ASOS
There's something about a blazer that makes me feel like a grown-up lately. I guess it doesn't help that people have been recently asking how grown-up I feel now that I graduated college. I'm sure I'll never actually feel grown-up. Being a kid, even if its at heart, is way cooler, haha. Oh and if you were wondering what nail polish I was wearing (if you weren't well then now I bet you are. I can be so sneaky sometimes :)), it was one of two recent purchases in Walgreens. Nail polish has seriously become my new obsession.
I'm actually looking forward to the start of this week because it means I'll be another day closer to seeing the boyfriend again! Yay. :)